Product Overview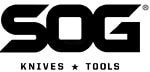 The SOG PowerLock EOD is the product of years of multi-tool manufacturing and innovation. The PowerLock utilizes SOG's exclusive interlocking gears so you can open the tool with the flip of your wrist, and the gears also create compound leverage that doubles the amount of force you can apply during use. This makes cutting wires and crimping a breeze.
The PowerLock is loaded with all the tools you need. It features heavy-duty needle nose pliers/gripper with a wire cutter. The handles have a smooth surface, so the multi-tool remains comfortable in your hand no matter what task you are tackling. The PowerLock also includes a Double-Toothed Wood Saw, Partially Serrated Blade, Large Screwdrivers, Fuse Well Spike, Three-Sided File, Can Opener/ Small Screwdriver, Bottle Opener/ Medium Screwdriver, Phillips Screwdriver, Awl, Ruler, and a lanyard ring. The PowerLock utilizes hex bolt construction, so individual tools can be replaced or customized. Comes with a Nylon sheath.

Tools Included:
Needle Nose Pliers
Wire Cutter
Partially Serrated Blade
Small/Large Screwdriver
Phillips Screwdriver
Ruler
Three-Sided File
Can Opener
Bottle Opener
Awl
Made In
Was this information helpful?