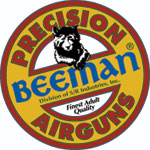 Features
Includes 177 and 22 caliber barrels
Two stage adjustable trigger
Automatic Safety
Fiber optic sights
4x32mm scope
The Beeman Grizzly X2 Dual Caliber Air Rifle is a great choice for targets and pest control. This unique Air Gun comes with both 177 and 22 caliber barrels. This allows the shooter to shoot different calibers for different activities. The 177 barrel is great for target practice, while the 22 caliber barrel offers more energy for shooting pests or small game. Beeman has assembled many great features at a reasonable price so just about anyone can enjoy the sport of Air Gun shooting without breaking the bank.
Technical Information
Caliber: 177 Cal, 22 Cal
Weight: 7 lbs
Overall Length: 45.5"
Barrel Length: 16.5"
Ammunition: Pellet
Magazine Capacity: Single shot
Cocking Effort: Not listed by manufacturer
Trigger Pull: Not listed by manufacturer
Trigger Type: Two stage adjustable
Safety: Ambidextrous automatic
Max Muzzle Velocity: 177: 1,000fps, 22: 830fps
Action: Break Barrel
Power Source: Spring Piston
Barrel: Rifled
Scope: 4x32mm
Stock: Monte Carlo with ambidextrous cheek piece
Front Sight: Fiber Optic
Rear Sight: Adjustable
Note: Some break barrel action guns may be harder to break then others. It may take added force to break open the barrel for the first couple uses, after several uses, it will become easier. It is recommended to break it open, however not fully cock the gun, 10 times to loosen the barrel and make it easier for future use.