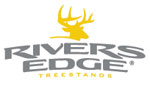 Features
Removable camo blind enclosure offers eight shooting windows for 360 degree viewing
Blind enclosure supported by steel frame with safety rail
Huge 4' x 4' platform makes comfortable hunting quarters
Zippered door for easy access and eight zippered panels for 360 degrees of viewing
Ground pads for added stability
Hunt from command central. The Rivers Edge Outpost Ladder Tower with camo blind enclosure gives you the best view possible with 360 degrees of viewing, thanks to eight zippered panels, while still keeping you concealed in a 10' tower. The sturdy cross bracing makes it extremely stable and there is plenty of interior space for the hunt. The perfect way to get a full-view without detection. The 4' x 4' platform makes for a comfortable sitting area.
Technical Information
Material: Steel platform; nylon blind
Height:
Roof: 16' 2"
Shooting Rail: 12' 8"
Platform: 9' 9"
Weight: 181 lb
Platform Dimensions: 48" x 48"
Blind Dimensions: 48" x 48" x 60"
Weight Capacity: 500 lb
Entrance Dimensions: Not listed by manufacturer