Product Overview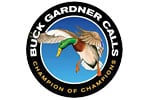 Features
Duck/goose call combo
Easy to operate
Double O-rings to ensure tight air seal
The Gander Hammer features "quick-tune" guts and has that deeper tone that bits those big honkers' landing gear down. This call is on the softer side to it is an excellent finishing call, but still has enough volume to let those birds know you are there from long range. Double O-rings ensure an air-tight seal for more consistent back pressure. Hand tuned by the pro-staffers at Buck Gardner to ensure that it has the sound to help you put the hammer down on some long neck honkers!

The Mallard Hammer is a great options for all callers! It will feed call super-free and easy unlike most other double reeds and it's heavily dimpled top reed makes it virtually impossible to blow a tone out of the call. This little Mallard Hammer will bark with the biggest dogs and still whisper sweet and sexy on the very bottom end. The redesigned mouth piece that fits your mouth like it was made for it and it has double silicone coated O-Rings that ensure a perfect fit and air seal between the insert and the barrel!!!!!!


Made In
Was this information helpful?