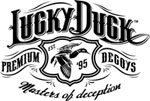 Features
Adds realism to decoy spread
Remote activated up to 100 yards away
Easy set up/take down
The Flapper Goose decoy from Lucky Duck will bring some realism to your goose spread this season. This goose decoy has a flocked head and durable flapping magnetic EVA wings for easy setup. The wing-flapping decoy simulates a landing goose or a goose stretching its wings and eliminates the need for flagging. By having this flapping wing decoy in your spread, the focus of incoming birds shifts from a hunter using a goose flag, to out in your decoy spread. Comes with remote control, 12V battery, charger and metal tripod base. Runs continuous or intermittent-3 seconds on, 10 seconds off and has Variable speeds. Decoy head is 36" off the ground and a wing span of 43". Remote range up to 100 yards-Decoy Runs up to 9 hours continuous on 1 charge. With this remote controlled flapper goose decoy, you won't have to wear out your arms using a goose flag anymore.
Included
Decoy
Remote control
12V battery
Charger
Metal tripod base
Technical Information
Battery: 12V (included)
Height: 36"
Width: 43"