Product Overview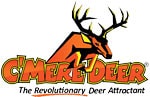 Features
Concentration of minerals and extracts
Pour over logs, vegetation or any desired location
Can use in feeders
Stops the big boys in their tracks!
C'Mere Deer X-TREME Attractant is a botanical and synthesized chemical powder-extract proven to draw deer. The concentration of minerals and extracts works even when bucks are out of rut, because it's a powerful forage-based stimulant. It spurs animals to instinctively seek out food, both on and below the ground's surface. The unique blend of plant and root extracts and mineral stabilizers gives you the opportunity to take aim while the animal paws, digs and roots, trying to get to the food source.
Instructions for Use:
Pour or toss C'Mere Deer X-TREME powder directly on the ground, around the base and bark of trees, over stumps, logs and vegetation or any desired location you want to attract and hold deer. Sprinkle or pour C'Mere Deer X-TREME powder over acorns, vines, grasses, bushes, briars, honeysuckle, clover and select areas in food plots desired to attract and hold deer. To keep attractant odors in the area longer you may also pour into gravity-fed and electric spin-cast feeders. Avoid moisture, low spots and standing water when using C'Mere Deer X-TREME Powder.
Made In
Was this information helpful?