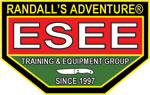 Features
One piece double-edge 1095 carbon steel
Powder coat finish
Convenient wallet holds two Esee Arrowheads
Made in USA
The Arrowhead Wallet snugly holds two ESEE AH-1 Arrowheads (included) in two carrying trays that slip into two pockets in the wallet. A third pocket allows the user to include cordage or wire for fastening the arrowheads onto a shaft. The wallet has a webbing strap on the back for attaching it to other gear or a belt, and a paracord lanyard. Made in the USA from 500 denier Cordura.
The Arrowhead is lightweight and stores in a small space. Lash it to a branch or handle for use as a knife or a spear. Features: One piece double-edged 1095 carbon steel construction with black textured powder coat.
Technical Information
Arrowhead Steel: 1095 Carbon Steel
Finish: Black Textured Powder Coat
Overall Length: 2.5"
Wallet Dimensions
Open
Length: 5.75"
Width: 4"
Closed
Length: 1.75"
Width: 4"