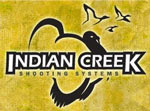 The Black Diamond Strike from Indian Creek is designed to knock turkeys right off their feet. Precision engineered to the industry's tightest tolerances, this tube has been proven to kill many a bird. The Strike will accommodate all lead and hybrid heavy loads with shot sizes from #4 through #8. The Strike has been proven to increase pattern density by 40% or better. That means tighter groups, more pellets down range and more birds in the freezer! Don't settle for anything less, be ready to Strike that trophy gobbler this spring!

Technical Information:
Gauge: 12
Thread Pattern: Remington Rem Choke
Popular Firearm Models: Remington 870, Remington 1100 and Remington 11-87
Constriction: .665"
Ported: Yes
Shot Type: Hevi-Shot, lead, or copper plated lead sizes # through #8
Purpose: Turkeys
Material: Steel
Made In {{countryOfOrigin}}