Product Overview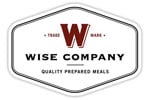 Features
Food is safely sealed in Mylar pouches
To avoid waste, each pouch conveniently contains 4 servings
Lock-in stacking buckets for compact and secure storage without the need of shelving
Grab-and-go handles for easy transport in an emergency
Easy to prepare; just add water
3 pouches of Wise Fire
Premium 28 oz Seychelle water filtration bottle included
25 year shelf life
An emergency kit designed to get you started with your preparedness needs. Includes a premium 28 oz Seychelle Water Filtration bottle, 3 one-cup pouches of Wise Fire, five entrees, two breakfasts and two beverages for a total of 72 servings and 13,120 calories. Ideal to help 2 people survive for 72 hours.
Package Includes:
Creamy Pasta and Veg. Rotini- 8 servings
Savory Stroganoff- 8 servings
Tomato Basil Soup with Pasta- 8 servings
Southwest Beans and Rice- 4 servings
Brown Sugar and Maple Multi-Grain Cereal- 8 servings
Apple Cinnamon Cereal- 8 servings
Orange Delight Drink Mix- 16 servings
Whey Milk Alternative- 12 servings
Wise Fire- 3 one-cup pouches
28oz Seychelle water filtration bottle- 1
Made In
Was this information helpful?