Product Overview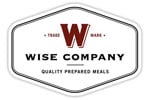 Features
Includes 24 total buckets
Food is safely sealed in Mylar pouches
To avoid waste, each pouch conveniently contains 4 servings
Lock-in stacking buckets for compact and secure storage without the need of shelving
Grab-and-go handles for easy transport in an emergency
Easy to prepare; just add water
25 year shelf life
Introducing the new Wise Company formulation with lower sodium and trans fat. Includes 1440 entree servings and 1440 breakfast servings (12 entree buckets and 12 breakfast buckets).
How long will it last?
4 adults at 2 servings a day= 1 Year
2 adults & 4 children at 2 servings a day= 1 Year
Package Includes:
Cheesy Lasagna- 96 servings
Creamy Pasta and Veg. Rotini- 144 servings
Savory Stroganoff- 144 servings
Cheesy Macaroni- 96 servings
Tortilla Soup- 96 servings
Potatoes and Chicken Flavored Pot Pie- 96 servings
Pasta Alfredo- 96 servings
Chili Macaroni- 96 servings
Teriyaki and Rice- 48 servings
Loaded Baked Potato Casserole- 96 servings
Tomato Basil Soup- 144 servings
Chicken Flavored Noodle Soup- 144 servings
Southwest Beans and Rice- 144 servings
Strawberry Granola Crunch- 240 servings
Brown Sugar and Maple Multi-Grain Cereal- 480 servings
Crunchy Granola- 240 servings
Apple Cinnamon Cereal- 480 servings
Made In
Was this information helpful?