Product Overview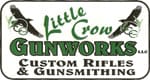 The Little Crow Gunworks Bolt Catch Tool is the perfect and easiest answer to installing the bolt catch on your AR-15/LR-308 receiver without marring or scratching the finish.
The Little Crow Gunworks Bolt Catch Tool is comprised of a starter punch, a finishing punch, and 6 assembly pins cleverly disguised as tooth picks which have ben cut in half. The bolt catch spring and follower should be assembled in the receiver. The bolt catch then can be placed in the cut out in the receiver using the assembly pin. Resting the lower receiver on your bench with the magazine well facing down, place the bolt catch roll pin in the tip of the starter punch. Tap the roll pin in until it almost touches the bolt catch boss on the receiver. At this point the finishing punch is used to tap the roll pin home. If you are wondering why Little Crow used a toothpick for an assembly pin, the answer is it works the best- It wont scratch the finish on the mag latch ridge and it does not bounce out like a metal one would.
Made In
Was this information helpful?