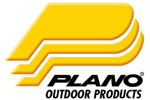 Features
Large outer pocket for shooting accessories, tools or personal items
Holds 1312 ammo can
Three external magazine pockets
Back zips open to lay out gun mat and/or room to store second pistol
They're the perfect compliment to your Plano ammo cases. The X2™ series of range bags are designed to fit securely around Plano field boxes to provide necessary storage for safety glasses, ear protection, magazine holders, cleaning supplies and other accessories. It comes equipped with an adjustable padded shoulder strap so you easily carry all the firepower you need for fine-tuning your shot. Ammo can included, contents not included.
Technical Information
Material: Nylon
Weight: Not Listed by Manufacturer
Length: 14"
Width: 8.5"
Height: 7.5"
Shoulder Carry Strap: Yes
Hand Carry Handles: No
Total Number of Pockets: 6 (3 magazine pockets 3 storage pockets