Product Overview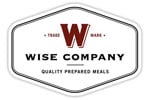 Features
Includes 12 total buckets
Food is safely sealed in Mylar pouches
To avoid waste, each pouch conveniently contains 8 servings
Lock-in stacking buckets for compact and secure storage without the need of shelving
Grab-and-go handles for easy transport in an emergency
Easy to prepare; just add water
25 year shelf life
Wise Company assorted freeze dried vegetables are second to none. Each individual packet of vegetables has been designed to mix and match (as desired) with long-term gourmet butter, cream, cheese, and mushroom sauces. Our unique approach increases the overall taste, calorie, and nutritional content. With up to a 25 year shelf life, this package is a Wise recipe for any type of emergency, not to mention great for everyday use.
Package Includes:
Corn - 288 servings
Peas - 192 servings
Broccoli - 288 servings
Green Beans - 288 servings
Mushroom Sauce - 96 servings
Cheese Sauce - 96 servings
Cream Sauce - 96 servings
Butter Sauce - 96 servings
Made In
Was this information helpful?