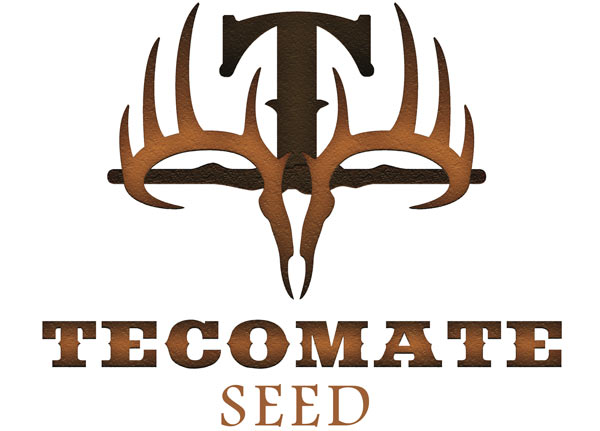 Features
First mixture for western species
Developed in the West for the West
Includes highly attractive Matua Prairie Grass
Produces forage, cover and seeds for multiple years
Provides high protein, high energy and beneficial tannins
Produces all growing season long
Fortified with Chicory for good rumen health
The Tecomate Western Big Game Combo was inspired by accomplished big game hunter and noted author David Morris. David, original partner of Tecomate Seed and part time resident of Big Fork Montana and South Texas, grew food plots and enjoyed viewing deer, elk and turkey from his back porch on the western side of the Bob Marshall Wilderness. Western Big Game Combo is the result of Morris's efforts to design a seed mix of essential grass, browse and forbs for Elk, Mule Deer, Whitetail, Turkey, Pheasant and Quail. This proprietary mixture of Matua Prairie Grass, Alfalfa, Clovers and Chicory provides the best in improved perennial forages adapted for Western wildlife managers and hunters. Matua Prairie Grass is high quality forage that provides energy, cover and seeds that can be utilized by all types of western game.
Deer and Elk will readily eat Matua while passing up other grasses. Turkey, Pheasant and Quail benefit from the heavy seed production and cover that it provides. Combining these benefits with the known attraction and nutrition of Tecomate's special Alfalfa and Clovers would be an adequate food plot, but in the words of Tecomate founder Gary Schwarz, "You would not feed a race horse an adequate diet; you'd feed him for optimum performance." That is why Tecomate adds chicory to all their temperate mixes. Chicory feeds the rumen, the digestive system of Deer and Elk. Its special tannins allow these animals to better utilize or digest everything they eat in and out of the food plot.
Seed Content: Prairie Grass, Alfalfa, Clover and Chicory
Planting Time:
North: Spring or Fall
South: Fall
Seeding Rate: 1 acre
Planting Depth: .5"
Made In {{countryOfOrigin}}