Product Overview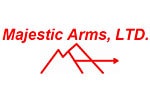 The Speed Strip Master Grade Kit is the ultimate upgrade kit for your Ruger pistol. The Majestic Arms Speed Strip Kit comes equipped with outstanding components. The bolt stop pin allows for rapid field stripping and reassembly. Hammer and sear are precut and honed to produce a match grade trigger at approximately 2.5 lbs. Improved hammer bushing omits the magazine disconnector and the disconnector bar is made from heat treated steel, guaranteed not to warp or bind. Finally, the oversized sear tab provides a short trigger while the dedicated speed trigger features a smooth face for the best trigger feel!
Kit Includes:
Majestic Arms' patented 2-piece Bolt Stop Pin
Hammer and Sear
Improved Hammer Bushing
Disconnector Bar
Oversized Sear Tab (needs final fitting). Provides short trigger stroke (approx. 1/16") and quick reset.
Dedicated Speed Trigger
Over trigger Adjustment Screw
Made In
Was this information helpful?