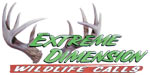 Features
Interchangeable sound modules
Automatic shut-off after one minute at idle
Power and low battery LEDs
Raised rubber keypad
Detachable belt clip
-40 degree operation
Sealed module ports
Mute button
The Phantom Predator Pro-Series wireless call comes complete with a remote transmitter, remote receiver module, and two long-range antennas. With the Phantom Predator Pro-Series wireless call you're able to overlap the same sound, play two sounds simultaneously, or switch out your sound module for a different one.
The Phantom Predator Pro-Series wireless call operates on 4 AA in the remote and 4 AA batteries in the transmitter allowing for up to 16 hours at maximum volume. These calls are built to be used in all weather conditions. This model requires antennas on each unit (included). A 15-watt, all-weather speaker (included) is plugged into the top and clipped on the back of the receiver unit, allowing this compact system to be placed 200 yards away from you, depending on the terrain, distancing yourself and allowing you to remain undetected.
Included in this call are the following sounds: Coyote Howls, Coyote Pups, Jack Rabbit Distress, Fawn Distress, Baby Pig Distress, Feline Distress, Rabbit Distress, Bird Distress, Rodent Squeaks, Crow Gathering, Thrashing Leaves, Ground Hops.