Product Overview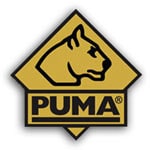 Puma SGB knives are made with German steel blades. Each blade is Rockwell tested to ensure hardness between 55 and 57 and bears the dot of a Rockwell proofmark. These knives deliver the performance of superior grade 1.4116 German Cutlery steel at attractive price points. The Puma SB German steel knives use the exact same steel produced in Solingen, Germany as the traditional Puma knives, but the knife is assembled int Asia.
The Puma SGB Big Bear is a perfect hunting knife that not only looks great, but performs great. The Big Bear's hand fitted handle scales, and polished brass finger guard and rivets make this knife as good looking as it is useful. The 1.4116 German Stainless Steel Blade is easy to sharpen, and will stand up to many skinning tasks before in needs resharpening. The Big Bear is well balanced, and very comfortable in your hand during use. Comes with a sheath.
Made In
Was this information helpful?