Product Overview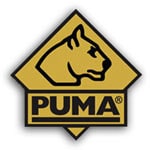 The Puma SGB Series Knives are all handmade by skilled craftsmen. The incredible fit and finished with the handle scales and Nickel or Brass Bolsters would make anyone proud to carry these knives. The SGB Series are made with 1.4116 German Stainless Steel blades and assembled in China, to create a superior quality knife at a more attractive price point. The German Blades are razor sharp and extremely durable. Each blade is proof tested for a Rockwell Hardness of 55-57 to insure the quality of the blades. The small dimple near the back of the blade on the right side is not a blemish, but where the hardness testing was done. The dimple is proof that the blade was checked for hardness and is the highest quality.
The Mule Deer Hunter is a perfect hunting knife that not only looks great, but performs great. The Mule Deer Hunter's hand fitted handle scales, and polished brass finger guard and rivets make this knife as good looking as it is useful. The 1.4116 German Stainless Steel Blade is easy to sharpen, and will stand up to many skinning tasks before in needs resharpening. The Mule Deer Hunter is well balanced, and very comfortable in your hand during use.
Made In
Was this information helpful?