Product Overview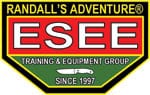 Features
No questions asked warranty
Tumbled black oxide finish
11.5" overall length
25.5 ounces
While working in some of the more sketchy corners of South America, Expat contacted ESEE in the search for high-quality, worst case scenario jungle survival training. Thus began a close association that has lasted for over 15 years. Expat has logged thousands of miles throughout the third world, sometimes with the ESEE team, but always with ESEE products. From armored motorcades in Colombia and trekking in the Himalayas, to earthquakes in El Salvador and hunting in the Balkans, ESEE knives have been a constant companion. He has been a student, a translator, and an instructor for Randall's Adventure Training. Throughout his time overseas, he has developed some unique insights on tools and adventures and is currently working with ESEE to bring these designs and experiences to others. What began with a cleaver will end up…well, who knows? That's the whole point of the Expat Experience.
The Expat Cleaver is made from high carbon 1095 steel and will rust and stain if not properly cared for, especially on the cutting edge and around the laser engraving. It is the user's responsibility to keep the blades properly lubricated and cleaned. ESEE suggest using a dry film rust inhibitor on the blade. Use Lock Tite when assembling any hardware, such as attaching the clip plate to the sheath.
Made In
Was this information helpful?