Product Overview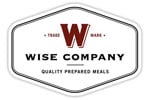 During an emergency, a hot breakfast is more than just a healthy way to start the day—it's a luxury and a comfort. Wise Company Storage's 92-serving breakfast bucket includes two types of hearty scramble, pancake mix, and powdered milk. Wise even added maple flavored syrup. Ideal for camping and hiking as well as emergency preparations, each packet of breakfast food contains four servings in a sealed Mylar pouch and has a shelf life of twenty-five years. Whether you're hiking the Appalachians or keeping your family safe during a disaster, start your day right with a nutritious hot breakfast.
Package Includes:
3 pouches of Egg and Sausage Scramble (12 Servings)
3 pouches of Garden Scramble (12 Servings)
2 pouches of Pancake Mix (20 Servings)
2 pouches of Maple Flavored Syrup Mix (20 Servings)
2 pouches of Powder Milk - Whey (28 Servings)
Made In
Was this information helpful?