Product Overview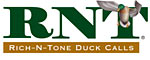 Features
Cork
O-rings
Razor knife
Screwdriver
Hard plastic case
Assortment of reeds
Customized reed trimming scissors
Everything you need for tuning your calls
The RNT Duck Call Tuning Kit is everything you need for tuning your RNT Calls. The stylish RNT embellished hard plastic case includes customized reed trimming scissors, a razor knife, a screwdriver, a large assortment of reeds (.007 Standard Reeds, .007 Dimpled Reeds, .010 Standard Reeds, .010 Precut Reeds, .010 Dimpled Precut Reeds, .010 Quackstacker (diablo) Reeds, and .014 Quackstacker (mondo) Reeds), corks (RNT Standard Cork Extra Tall Cork) RNT standard duck O-Rings, and space for extra storage.
Everything you need in one handy package — keep your RNT Duck Call in tip top shape and in perfect tone!


Made In
Was this information helpful?