Product Overview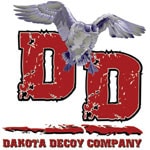 Features
Fully flocked drakes, painted hens
Deep side pocket and feather texturing
Hand painted
Oversized for maximum visibility
6 unique head positions
60/40 polyethylene blend for superior durability
Dakota Decoy has designed one of the most effective and realistic Mallard decoys ever. Mallard ducks are the primary focus for many waterfowl hunters, so why not have your best decoys to help you be more successful on these birds. The Dakota X-Treme Mallard decoys come with both painted and flocked heads for the drake allowing you to choose what is best for your situation and feature two head positions on the hens and 4 head positions on the drakes for the ultimate in realism. Each drake Dakota goes through a 24 step painting process and each hen a 16 step process to ensure they are that the only think that looks better than these decoys is the real thing.

Note: The drakes are fully flocked. The hens are painted only.

Made In
Was this information helpful?