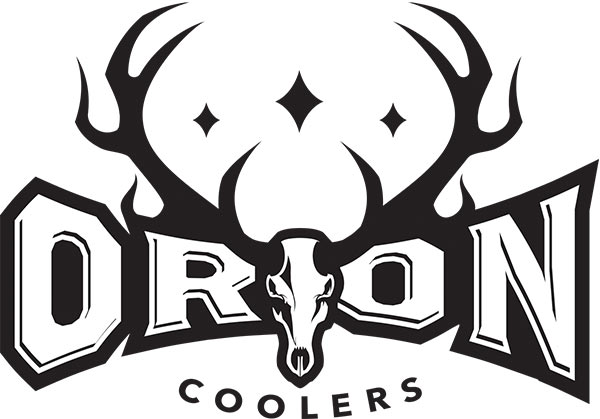 Features
Six tie down points
Four aluminum bottle openers, one on each corner
Integrated standing pad
Lockable/Certified bear resistant
Best-in-class 2"+ of insulation
Lifetime hinges and cam latches
Every Orion cooler is molded and assembled in Sparta, Tennessee
If Orion ran things, every household would have at least one Orion 65. Let an ice storm or hurricane take out power. All you'll need is a block of ice and the 65 to keep the storm beer cold and everything in the fridge and freezer safe from spoilage. Which means a long week in the field is no sweat for this workhorse. You got quartered big game to ship back home? Slayed the dorado and want 40 pounds of filets to make it back to Ohio? This is your cooler. Lockable, beastly strong and stingy with every chip of ice you feed it, the Orion 65 craves big adventures, huge tailgate parties and any event when a lot of stuff needs to stay cold for a long time.
What gives Orion coolers the advantage?
INSULATION: Rugged construction using today's cutting edge insulation techniques, ready to keep your cold goods COLD for days on end.
YAKATTACK TRACKS / RAM INTEGRATION: The YakAttack accessory tracks mounted on each side allow you to easily and quickly mount a myriad of accessories to to enhance its performance; rod holders, phone holders, cup holders, GPS, Fish Finders and more.
STANDING PAD (Standard): Grippy, standing pad that comes standard with all Orion coolers providing users with a stable. comfortable platform when standing or sitting.
SOLID PLASTIC TRAY: A solid plastic tray comes standard with all Orion coolers.
CARRY HANDLES: Strong. motorcycle-style carry handles with reinforced climbing ropes ready to take any load with comfort and ease.
BOTTLE OPENERS / TIE DOWN POINTS: Four aluminum tie down points on each corner that double as bottle openers. Two additional tie down points on either side.
LOW-PROFILE CAMMING LATCHES: Low-profile, snag-free, camming latches secure your goods in tight and are quick to open and create a solid, air-tight seal when locked into place.
DRAIN PLUGS: Large, easy to open drain plug for fast drainage of any melted water, ease of hosing out, or equalizing pressure after air travel.
MADE IN THE USA: Every cooler is molded and assembled in Sparta, TN. next to Jackson Kayaks with quality and pride; the best molders in the business.
Easily transported by canoe, raft, truck, or even small planes, with capacity to hold quartered big game, larger fish or food for a week, the 65 is the right size for long adventures.
Suggested uses:
Multi-day hunting and fishing, extended camping trips (canoe or trailer), rafting trips, hunting/fishing lodges, tailgating/sporting events.
Made In {{countryOfOrigin}}