Product Overview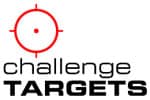 Features
Round Target, 3/8" thick AR500 steel is rated for all handguns and rifles up to 3,000 fps at the target
Optimal hole spacing is designed for hanging this plate by chains or rubber straps
Teardrop shape holes are designed for 1/2" square neck carriage bolts or 1/2" diameter S-hooks
Our AR500 steel is certified to a minimum Brinell Hardness of 500 BHN
Target plates are laser cut to reduce heat and preserve the hardness of the edges
Target plates are reversible to extend their usable life
Each package includes a detailed safety instruction sheet
In business since 2009, Challenge Targets is an industry leading manufacturer of steel targets. Their products are currently utilized by hundreds of local, state, and federal law enforcement agencies as well as every branch of the United States Military. We are committed to providing better targets that result in a better shooting experience with priority standards in safety, durability and customer service.
The new line of Gong Targets are designed for budget minded DIY shooters. Simply hang the Gong Plate using chains or rubber straps. Each good shot swings and rings the steel gong! The teardrop shape holes in the target plate are designed to accept 1/2" square neck carriage bolts (preferred) or 1/2" diameter s-hook connectors.
Made In
Was this information helpful?