Product Overview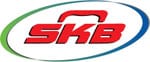 Features:
Accommodates 8 Handguns and 24 Magazines.
Padlock holes include stainless steel padlock protector clips.
Cushion grip handles on three sides for comfortable lifting and carrying.
In-line skate style wheels and pull-out handle for easy transport.
Waterproof and dust tight design (MIL-C-4150J).
Molded-in hinge for added protection.
Trigger release latch system.
Snap-down rubber over-molded cushion grip handle.
Ambient pressure equalization valve (MIL-STD-648C).
Resistant to UV, solvents, corrosion, fungus (MIL-STD-810F).
Resistant to impact damage (MIL-STD-810F).
Lifetime Warranty.
$1500 Content Coverage.
The iSeries 2015-10 Eight Handgun Case is an injection molded, watertight case featuring customized high density 2lb closed cell foam interiors that accommodates eight handguns with designated slots for twenty-four magazines and other accessories. The eight-handgun case features wheels and a pull handle for easytowing, and is great transport solution for sports enthusiast, law enforcement, and military personnel alike.
The 3i-2015-10B-M is made of ultra high-strength polypropylene copolymer resin, material specified by the U.S. military for cases and containers. It features a gasketed, water and dust-tight submersible design, meeting military standard MIL-C-4150J. The automatic ambient pressure equalization valve self-regulates for different altitudes meeting military standards MIL-STD-648C and IP67. It is resistent to UV, solvents, corrosion, fungus and impact damage, surpassing military standard MIL-STD-810F. The case features a continuous molded-in hinge with stainless stee
l pin, a patented "trigger release" latch system, and a comfortable, snap-down, rubber over-molded handle.
The 3i-2015-10B-M is comfortable and durable in transport and secure and stable in storage thanks to SKB's interlocking case design. With two padlockable eyelets, the 3I-2015-10B-M is completely secure
Made In

United States of America
Was this information helpful?