Product Overview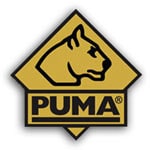 The Puma Classic Series Phoenix Bowie knifes are hand made in Solingen Germany and have long set the standard for the ultimate hunting knife. The stag handles are made from the shed antlers of stag deer, making each stag handled knife truly unique. Each handle scale is individually cut and hand fitted to each knife. The 1.4116 Steel blades are razor sharp and extremely durable. Each blade is proof tested for a Rockwell Hardness of 55-57 to insure the quality of the blades. The small dimple near the back of the blade on the right side is not a blemish, but where the hardness testing was done. The dimple is proof that the blade was checked for hardness and is the highest quality.
The Puma Classic Series Phoenix Bowie Knife is a big knife that is built strong enough to handle everything you encounter in the field. The Phoenix Bowie features elegant Stag handles with brass rivets and polished blade and finger guard. The 1.4116 Steel Blade is easy to sharpen, and will stand up to any task you throw at it. The Classic Bowie is as beautiful as it is tough, and great for in the field or as a conversation piece. Comes with a Leather Sheath.
Made In

Germany
Was this information helpful?