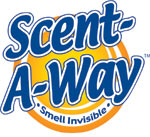 Scent-A-Way products are designed to neutralize the human odor element while hunting. Keeps big game from detecting your location with their #1 line of defense, their nose.

Detergent features:
Unscented formula
Eliminates odors
Removes stains
Contains no UV brighteners
Camo Guard keeps colors from fading
Biodegradable, phosphate free concentrate
Technical Information
Notes:
Eliminiates human scent and odors.

Contains no UV brightners and is odor free.

Camo Guard enzyme provides color protection.

Detergent is biodegradable

1/4 cup per load of laundry

Made In {{countryOfOrigin}}