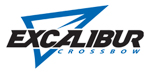 Realtree hardwoods HD finsh
Traditional stock
Blazing speeds up to 350 fps
Ambidextrous manual safety
If you are a speed freak, the Exomax from Excalibur is your crossbow. Boasting an impressive 225 lb draw weight capable of spitting arrows at a blistering 225 feet per second, this power house is in a league all its own. Get all of the reliability and durability that Excalibur crossbows are made for with the speed of the fastest compound. Featuring an ambidextrous safety and stock, this rocket will fit any archer.
Features
Technical Information
Speed: 350 fps (using 350 grain arrow with optional Flemish Dyna Flight string)
Kinetic Energy: 95 ft-lbs
Draw Weight: 225 lbs
Power Stroke: 16.5"
Overall Length: 39.5"
Weight: 6.5 lb
Arrow Length: 20"
Sight: Shadow Zone Crossbow Scope
Package Contents
Shadow Zone Crossbow Scope
Excalibur 4-arrow quiver
4 Firebolt arrows with points
Rope Cocking Aid
Made In {{countryOfOrigin}}