Product Overview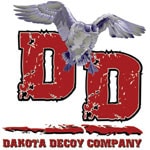 Features
Flocked heads on the drakes
Painted heads on the hens
Deep side pocket and feather texturing
Hand painted
Oversized for maximum visibility
6 unique head positions
60/40 polyethylene blend for superior durability
Here in the heart of Central Flyway we are blessed with season long bunches of mallards. From South Dakota hatched birds in October to the latest migrating flocks in December, they seem to never end! Dakota Decoy took their time on these mallards and have designed unquestionably the most life like duck decoy on the market.
The first thing you will notice is the most life like, hand painted finish ever put on a hunting decoy. These drakes go through a 24 step painting process, and our their go through a 16 step painting process. This attention to detail is evident the minute you lay eyes on these decoys!
Upon further inspection you will notice the 6 different head styles in each dozen. These multiple heads come attached to the decoy, but will spin a full 360 degrees, to give your spread the most realistic look ever achieved with decoys.
These decoys are manufactured out of the same 60/40 blend of high and low density polyethylene that has been proven extra tough on the Dakota goose decoys. These decoys are able to attain the most durable paint possible, to give you years of trouble free use. The decoys are slightly oversized, measuring 16" in length. They have a weighted keel designed with the hunter in mind. A cleat on the front of the keel to lengthen or shorten lines to the desired depth of water.
The decoys are packaged in dozen packs with 7 drakes with 4 unique head styles, and 5 hens with 2 head styles. One look at these and you'll agree… duck hunting will never be the same!
Package Includes:
2 looker drakes
2 rester drakes
2 swimmer drakes
1 look behind drake
2 high looker hens
3 rester hens
Made In
Was this information helpful?