Product Overview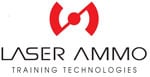 Features:
8"X1.8" laser sensor
Bright numeric LED display
Buzzer
Tripod and wall mounts
AAA battery operated
3 operational modes
Hit counter - this setting will count the shooter's consecutive hits
Shot timer / Fast draw - this timer will show the accurate time from buzzer to hit
Speed shooting - this mode will time the shooter as if they were changing a magazine and subsequently count how many times the shooter can hit the target within 5 seconds
Works with all SureStrikeTM TA/DF red laser cartridges and kits
Works in full room light
The Laser Ammo LaserPET Electronic Target is a great tool to help you Improve your shooting skills. The LaserPET personal electronic target improves shooting skills such as drawing, target acquisition and trigger squeeze while building a solid foundation for accuracy. To optimize this device's effectiveness, it can be combined with any SureStrikeTM laser training cartridges for immediate audio, visual and numeric feedback with multiple training options.
The Laser personal electronic target (PET) is a standalone laser training target that when combined with any SureStrike Laser Cartridge does not require a computer. This highly mobile target can be easily moved and setup for different scenarios in your home laser training range. This smart target helps improve your shooting skills with three skill modes. The LaserPETT can keep track of hits, act as a shot timer, and even help you speed up your reload times. It also gives the shooter instant audible feedback when a hit occurs and its easy to read screen displays training statistics like hit times.

Note: Will not read IR lasers
Made In
Was this information helpful?