Product Overview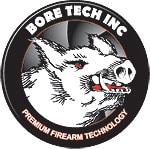 Cu+2 Copper Remover from Bore Tech is 100% safe for chrome moly and stainless steel, non-hazardous, odor free, biodegradable, ammonia and petroleum free. Cu+2 uses a 2 step process to remove copper fouling completely from the bore;
It Reconfigures the copper's electronic state. Metallic copper with a neutral charge Cu0 is oxidized or broken down into its cupric state, Cu+2.
Then, specially enhanced binding agents act like magnets selectively attracting and capturing the copper and removing it from the bore.
Cu+2 also contains a rust preventative which conditions the bore after cleaning.
Made In

United States of America
Was this information helpful?