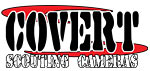 Features:

8 MP resolution

Incandescent flash for color nighttime pictures

Programming remote with color viewing screen

Video capability

The Reveal from DLC Covert is a flash game camera that is packed with features to help you locate your next trophy. The Reveal features 8 MP resolution and a wide strobe flash with a range of up to 60 feet. This camera is capable of daytime video clips with 640x480 resolution so you can see the rack on that trophy buck or the spurs on that old gobbler.

Technical Information


Resolution: 4 MP

Trigger Speed: 1.2 second

IR or Incandescent: Incandescent

Flash Range: Up to 60'

Video: Yes, 640 x 480 resolution

Audio on Video: No

Memory Card Type: SD, SDHC

Memory Card Size: Will accept up to 8 GB Card

Memory Card Included: No

Multi-shot:Yes, up to 3 shots

Programming Method: Remote control

Viewing Screen: Yes, on programming remote

Battery Type: 8 AA

Batteries Included: No

Photo Stamping: Time & Date

Time Lapse Mode: No

External Display: No

Camera Dimensions: 5.5" x 3.5" x 2.2"

Made In {{countryOfOrigin}}