Product Overview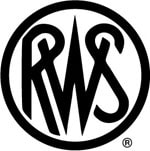 The RWS 34 P Air Rifle with 4x32mm Scope closely resembles the popular RWS 34. The classic style polymer stock gives the rifle a sleek look and is comfortable when shouldered. The adjustable 2-stage trigger along with the rifled barrel make the RWS 34 P and accurate rifle. The German crafted break barrel design is very easy to cock, making it great for any family. If you're searching for a high quality air rifle for plinking and shooting, the RWS 34 P is the rifle for you.
Technical Information:
Weight: 7.5 lbs
Overall Length: 46.0"
Barrel Length: 19.75"
Ammunition: Pellet
Magazine Capacity: Single Shot
Cocking Effort: 30 lbs
Trigger Pull: 3.33 lbs
Trigger Type: Two-stage adjustable
Safety: Automatic
Max Muzzle Velocity: 177 Cal: 1000 fps, 22 Cal: 800 fps
Action: Break Barrel
Power Source: Spring Piston
Barrel: Rifled
Scope: 4x32mm
Stock: Ambidextrous
Front Sight: Fiber Optic
Rear Sight: Fiber Optic Adjustable
Note: Some break barrel action guns may be harder to break then others. It may take added force to break open the barrel for the first couple uses, after several uses, it will become easier. It is recommended to break it open, however not fully cock the gun, 10 times to loosen the barrel and make it easier for future use.
Made In
Was this information helpful?