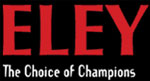 ELEY Ammunition designed a new cutting edge cartridge. Unlike any other .22 cartridge on the market, Edge Ammunition is breaking engineering boundaries with its scientifically developed surface treatment. The surface treatment delivers both a unique black look and increases the frictional force between case and bullet to give a more consistent propellant burn. Edge production benefits from tenex technology and introduces key features like the patented flat nose bullet profile to deliver superb accuracy.
Technical Information
Caliber: 22 Long Rifle
Bullet Weight: 40 Grains
Bullet Style: Lead Flat Nose
Ballistics Information:
Muzzle Velocity: 1085 fps
Velocity Rating: Subsonic / Standard Velocity
Muzzle Energy: 105 ft. lbs.