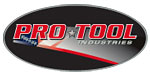 The Pro Tool Utility Pole Saw is a must have tool for every hunter and outdoorsman. The Utility Pole Saw allows the average person to reach out 10 feet to trim limbs. The hefty 19" blade is constructed from 18 gauge special formula saw steel. The blade features lance teeth with 5 points per inch, so sawing is efficient and easy. The rear of the blade has a 45 degree protrusion for clearing smaller limbs and debris. The sturdy ash handle is 27" long and extremely durable. Whether pruning trees or clearing shooting lanes, the Utility Pole Saw will get the job done.
Pro Tool Industries, a family factory, and its craftsmen, are Old School. Pro Tool uses traditional carbon steel, Pennsylvania hardwood ash, and domestic raw materials--nothing imported. Each knife is hand-crafted as an individual work, like the old-fashioned knives were made--not cookie cutter. Just like Pro Tool has done with the Woodman's Pal since 1941, they build their knives to become heirlooms--knives you'd be proud to pass to the next generation many years from now. And of course 100% lifetime guaranteed. So Pro Tool invites you to become another satisfied, longtime customer of all their brands.
Technical Information
Blade Steel: 18 gauge special formula saw steel
Overall Length: 46"
Blade Length: 19"
Weight: 32 oz.
Made in USA!
Made In {{countryOfOrigin}}