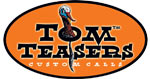 Give that old gobbler a dirt nap with the R.I.P. series of diaphragm calls from Tom Teasers. This 3 pack is sure to have what you need to bring him in on a string.
Package Contents:
The Undertaker features a double fang cut over two prophylactic reeds. This call is super user friendly with great backbone.
The Cremator is a bat cut with medium rasp that will call soft and cut hard and fast.
The Gravedigger features a double batwing over two prophylactic reeds on the bottom. This call will produce any wild turkey vocalization but shines on the aggressive side.
Made In {{countryOfOrigin}}