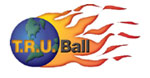 Micro adjustment for sensitivity and travel
Web connection strap
Swept Back Trigger
Flip Sear internal trigger mechanism
The Center X series of wrist strap releases completes the T.R.U. Ball lineup with one of the most technologically advanced line of archery releases to ever hit the industry! This release allows you maximum adjustment normally only found in a hand held release in a popular wrist strap model. With micro adjustment screws for sensitivity and travel allowing you the precision you need to maximize your accuracy. The Center X-S1 and Center X-S2 feature the ever popular web connection to the wrist strap for finite adjustment and a torque free shot. The Center X series of releases features an open hook style connection to the D-Loop for fast and accurate attachment. The new flip sear internal trigger mechanism allows for some of the lightest trigger settings under any bow weight. Simply cock the lever on the side to activate the hook, draw the bow and pull the trigger.
Technical Information
Head Type: Single Hook
Swept Back Trigger Design
Adjustable Trigger Travel
Adjustable Trigger Tension
Adjustable Head Length
Color: Black
Made In {{countryOfOrigin}}