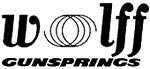 Hammer springs are available in a variety of weights to allow adjustment of the trigger and let-off to individual needs. Hammer spring packs offer a savings over individually purchased springs and are recommended when exact poundage desired is unknown. Installation requires disassembly and assembly of firearm.

Technical Information

Fits: Walther PP, PPK, PPKS, and P-38, 7.65mm and 9mm (.380 caliber)
Intallation: Requires disassembly and reassembly of the pistol
Kit Contains:

1 each: 16, 17, 18, and 19 pound reduced power hammer springs - allowing the user to adjust the trigger pull to their own desired pull. Hammer springs control the "Feel" of the trigger.

Made In {{countryOfOrigin}}