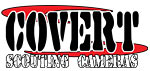 Features:

45' invisible flash range

Time lapse mode

Color viewing screen

Multi-shot burst

Adjustable PIR

The MP6 Black game camera from DLC Covert is a camera loaded with features, without the hefty price tag. The 40 black infrared LEDs gives you 45' of undetectable nighttime flash range, while the resolution can be set between 3, 5, or 8 megapixel. A time lapse feature will allow for all day scouting of your deer heard and the 8 AA batteries makes for low maintenance cost on this camera. Setup on the MP6 is fast and easy. Simply pour out your favorite deer supplement/attractant, arm the camera and be ready for high quality images. The adjustable PIR setting allows you to customize the sensitivity of your trigger, based on your environment. With 1-3 shot multi-image, this camera is great for use in the rut, when a big buck may be following a hot doe. The color viewing screen allows you to see your images, without having to pull your SD card. Date, time, temperature and moon phase image stamps allow you to fully scout your deer herd, while the quick 1.2 second trigger speed is ideal for use on deer trails or corn piles.

Technical Information:

Resolution: 3/5/8 MP

Trigger Speed: 1.2 second

IR or Incandescent: Invisible Black Flash IR

Flash Range: Up to 45'

Video: Yes, 5-60 seconds

Audio on Video: No

Memory Card Type: SD, SDHC*

Memory Card Size: Will accept up to 8 GB Card

Memory Card Included: No

Multi-shot:Yes, up to 3 shots

Programming Method: Color LCD Menu

Viewing Screen: Yes

Battery Type: 4 or 8 AA batteries

Batteries Included: No

Photo Stamping: Time & Date, Moon Phase, Temperature

Time Lapse Mode: Yes

External Display: No

Camera Dimensions: 5.1" x 4" x 2.9"

Made In {{countryOfOrigin}}