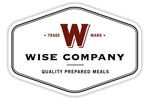 The Wise Food 7-Day Ultimate Emergency Meal Kit is the perfect solution for taking care of kids that leave for college or just introducing someone to the idea of preparedness. The 7-Day Ultimate Emergency Meal Kit provides one person with 3 meals per day for a full week.
The Ultimate Emergency Meal Kit contains 58 total servings, including real meat and provides over 2,000 calories per day. The freeze dried food is nutritious and reconstitutes with just boiling water. The conveinent Grab n' Go bucket makes this kit easily portable as well.
Technical Information:
Servings Per Container: 58
Noodles and Beef in Savory Mushroom Sauce-4 Servings
Pasta Alfredo with Chicken-4 Servings
Teriyaki Chicken and Rice-4 Servings
Creamy Chicken with Vegetables and Pasta-6 Servings
Cheesy Lasanga with Meat-4 Servings
Apple Cinnamon Cereal-6 Servings
Crunchy Granola-8 Servings
Chili Mac with Beef-6 Servings
Orange Delight Drink Mix-16 Servings
Weight: 9 lbs.
Made In {{countryOfOrigin}}