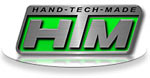 The HTM Knives Gunhammer Torpedo Assisted Opening Tactical Folding Knife is the last knife you'll ever need, but once you've handled one, you are sure to want another! This knife is the pinnacle of "Mid Tech" knives; that is, knives that straddle the line between full custom knives and standard production. HTM Knives is the semi-production side of Darrel Ralph's extremely successful custom knife business. HTM Gunhammer knives are modeled after the Darrel Ralph Custom Gunhammers which sell for considerably higher prices. The Hand-Tech-Made (HTM) versions are built with the user in mind and are perfect for military and law enforcement tactical applications, or every day carry and self-defense. The Gunhammer knives are big on both form and function; from the spring assisted opening American made CPM S30V and CTS-XHP blades to the Ergonomic Tactical (ETAC) 3D machined aluminum handle scales.
The 3.5" Torpedo blade features a spear point pattern that makes for an excellent all around utility, tactical, and self-defense design. Like other assisted Gunhammers, these feature the distinctive 1911 spur "flipper" that gives these knives their name. Also, the Gunhammer Torpedo blade features a high grind that makes it very effective at slicing cuts and the curve of the blade has belly along the cutting edge.
Gunhammer blades are made from either Crucible CPM S30V Stainless Steel or Carpenter CTS-XHP. CPM S30V is a well-known premium blade steel. CPM S30V is known for being a tougher steel, with greater edge retention and corrosion resistance than other popular steels. While Carpenter's CTS-XHP was designed to be a more corrosion resistant version of D2 Tool Steel, offering equivalent corrosion resistance of 440C Stainless Steel and better edge retention and wear resistance than D2.
All HTM Gunhammers use a .09" titanium lock bar that locks up like the proverbial bank vault. The aircraft aluminum handles are 3D machined with the ETAC pattern which provides excellent grip without being abrasive. The handles are then Type III Hard Coat Anodized for durability. To further illustrate how heavy duty these knives are: all wear parts have been hardened for increased utility. All HTM Knives are 100% Made in the USA every bit of it; every screw, spacer, and washer are all US Made products.
Technical Information
Folding or Fixed Blade: Folding
Blade Steel: Crucible CPM S30V or Carpenter CTS-XHP
Handle Material: Aircraft Aluminum
Blade Shape: Torpedo
Pocket Clip: Yes
Carry Options: Right Hand, Tip-Up/Tip-Down
Locking Mechanism: Liner
Opening Method: Flipper, Dual Thumb Studs
Blade length: 3.5"
Closed Length: 4"
Overall Length: 7.5"
Weight: 5.2 oz
Proudly Made in the USA
Made In {{countryOfOrigin}}