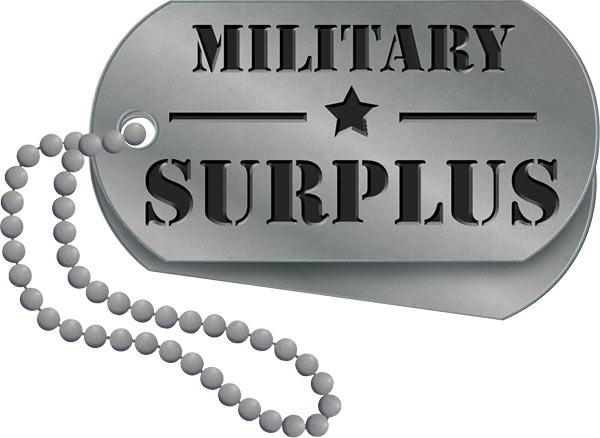 The Military Surplus improved 5-piece sleeping system is the ultimate in sleeping comfort and durability. When the two sleeping bags are combined with the Bivy Cover, the system is designed to be effective for climates down to minus 20 degrees Fahrenheit. The Improved MSS System can be effective to minus 50 degrees Fahrenheit when the user is wearing additional layers of the Extended Cold Weather Clothing System (ECWCS). This system has two sizes of compression sacks, allowing the user to only take the part of the system they need.
The 5- Part Modular Sleep System includes:
Improved MSS Patrol Sleeping Bag - Designed to fit over the Intermediate Cold Weather bag, the Patrol Bag snaps to fit the Cold Weather bag making a system that will keep you warm when the temperature drops below -10. The Patrol Bag alone is lightweight and excellent for use during warmer weather.
Improved MSS Intermediate Sleeping Bag - This lightweight, durable, mummy style sleeping bag is ideal for mild to cold weather. The durable rip-stop nylon shell and continuous filament polyester insulation is constructed to withstand the rigors of combat.
Improved MSS Bivy Cover - This Improved Bivy Cover is made of Gore-Tex and designed as the outer layer of the modular sleep system. The bivy cover is waterproof, windproof and durable enough to handle even the harshest of conditions. The heavy duty YKK zippers, which allow you to adjust ventilation, are tough and sure to last for years to come.
Improved MSS Large Stuff Sack - The large Compression Stuff Sack is constructed with water resistant materials and has adequate volume for both sleeping bags as well as the Bivy cover. This unique sack compresses the system to one cubic foot.
Improved MSS Small Stuff Sack - The small Compression Stuff Sack is also constructed with water resistant materials and has adequate volume for two of the three components of the system.
Technical Information
Weight: 10.46 lbs (entire system)
Patrol: 2.85 lbs
Intermediate: 4.0 lbs
Bivy Cover: 2.35 lbs
Large Compression: .76 lbs
Small Compression: .5 lbs
Temperature Range:
5 Part System: -10° to -50° (with appropriate ECWCS clothing)
Patrol: 30° to -10°
Dimensions:
Patrol: 81" x 35" x 22"
Intermediate: 81" x 34" x 21"
Bivy Cover: 81" x 34" x 27"
Large Compression: 23.5", 10.4" diameter
Small Compression: 19.5", 10.4" diameter
Zipper Length: 54"
Note:
Grade 1: Excellent to New/Unissued – All Military Surplus Improved MSS -20 Degree 5-Piece Sleeping Bag Systems are US Government Issued products and are rated in excellent to new/un-issued condition. Bags may be outside of original manufacturer's packaging but they will show minimal or no signs of wear.
Grade 2: Good to Very Good – Products may have been previously washed and may have evidence of minor use. All buckles will be available for use and sleeping bag may show some light fading or dirt.
Grade 3: Fair to Serviceable - These bags and zippers may show signs of heavy use and may show signs of fading and dirt. Products may have small imperfections but all snags/tears/burns will be less than 2" in size.
Made In {{countryOfOrigin}}