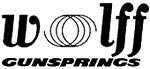 Recoil springs fit over your handgun's guide rod and control how the slide functions. In general, heavy loads need heavy springs and lighter loads need lighter springs. A spring that is too light can cause the handgun to open and close early and hard, increasing the felt recoil and battering the frame. A spring that is too heavy can cause the slide to be hard to open and could even keep the gun from cycling completely, jamming it. Installation requires disassembly and reassembly of the slide.

Technical Information

Fits:

Front push-button takedown models 102-107 - Including: Field-King, Flite-King, Olympic series, Supermatic series, Sport- King, and Victor.
Notes:

Conventional 5.5 pound design.

Used to restore pistol to original specifications.

Includes an extra power firing pin spring.

Made In {{countryOfOrigin}}