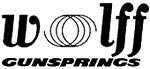 These extra-power striker springs make the striker move faster and hit harder to reduce misfires and increases lock time. To the shooter, the faster the firing pin strikes the primer, the tighter the group.

Technical Information

Fits:

1891, 93, 94, 95 and 96 Model Mausers
Notes:

Factory spring is 19 pounds.

Extra power striker spring decreases the lock time of the rifle. The lock time is the amount of time from the moment the striker is released from the sear until the striker hits and ignites the primer. The shorter the lock time, the shorter the time the rifle has to move off of the target.

Installation requires disassembly and reassembly of the rifle's bolt.


Made In {{countryOfOrigin}}