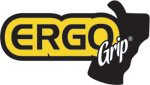 An ergonomic grip with an extension that fills the web of the hand for more comfort and better recoil control. Slight hint of finger groves for a positive feel and the width is tapered from top to bottom.

Technical Information


Includes the patented GAPPER which fills the void between the trigger guard and the top of the pistol grip.

Bolt-on, no modifications needed

Ergonomically designed grip fits the contour of the hand, rear upper extension supports the web of the hand.

Grip surface has the texture and feel of rubber with the strength of a rigid grip.