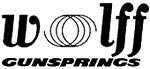 Wolff Shooter's Packs contain reliable springs which provide a great improvement in the overall trigger pull and hammer function. Installation requires disassembly and reassembly of the revolver.
Technical InformationMaterial:
Steel
Fits:
Smith & Wesson K, L, and N Frame revolvers

Notes:

This pack includes one each of 13, 14, & 15 pound reduced power rebound springs allowing optimum adjustment of the hammer and trigger functions.

These packs also take the place of expensive "trigger jobs" with better results.

K-Frame Models: 10, 12, 13, 14, 15, 16, 17, 18, 19, 65, 66, 67, 617, 648

L-Frame Models: 581, 586, 681, 686, 696

N-Frame Models: 24, 25, 27, 28, 29, 57, 610, 624, 625, 627, 629, 657
Made In {{countryOfOrigin}}