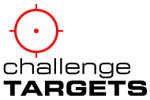 The Challenge Target Extreme Hostage Swinger Target gives shooters the ability to generate incredible, lifelike movement of your cardboard targets. Excellent for all types of hostage simulation and decision making drills. Simply staple a strip of cardboard (the sail) to the back of the moving target and the patent-pending counterbalance technology will take care of the rest. When light or moderate winds catch the "sail", the target will move randomly in both directions.
This system creates random, lifelike movement of a threat target behind a stationary hostage target.
Compatible with all handguns and rifles.
No battery or pneumatic power is required.
Movement is created using wind and the patent pending counterbalance technology.
Portable, 50lb. system, transports in two sections and sets up in minutes without tools.
System includes everything shown except cardboard targets and wood articles.
Accepts standard IDPA and IPSC cardboard targets.
Most Law Enforcement targets are compatible but may require trimming to reduce weight.
All-weather design with powder coat finish and stainless steel tracks. Capable of year-round outdoor use.
Adjustable leveling feet allow target to be used on uneven terrain and hillsides (up to 15 degree slopes).
Quick release hand knobs allow targets to be changed quickly.
Invaluable training tool for SWAT, entry, hostage rescue, and sniper teams.