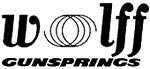 Hammer springs are available in a variety of weights to allow adjustment of the trigger and let-off to individual needs. Hammer spring packs offer a savings over individually purchased springs and are recommended when exact poundage desired is unknown. Installation requires disassembly and assembly of firearm.

Technical Information

Fits:

EAA Witness, AT-84, CZ-75, TZ-75 and Springfield Armory P-9. PLEASE NOTE: There are two different hammer spring configurations. These springs fit pistols with 2.5" long hammer springs. Current production pistols may have a 1.25" short hammer spring. MidwayUSA does not currently stock hammer springs for that pistol.
Kit Contains:

One each of the following reduced hammer springs: 16, 17, 18, and 19 pound.
Notes:

Factory hammer spring is 20 pounds.

A lighter hammer spring produces a lighter trigger pull.

Installations requires disassembly and reassembly of the pistol.