Product Overview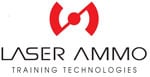 The Laser Ammo SureStrike Dry Fire Training System Ultimate Law Enforcement Edition allows any level of pistol or rifle user to practice totally safe handling drills and marksmanship with an actual weapon in any location, from the basement to the barracks. By pulling the trigger, the direct impact of the firing pin activates the SureStrike to emit a microprocessor controlled eye-safe laser pulse. This gives the user a shot of red light, which simulates the point of impact where a bullet fired from the weapon would have struck. This kit is adaptable to other calibers using the unique chamber inserts (sold separately). This system is 100% secure when installed properly, that is a live round can't be chambered. The SureStrike is designed so that you will not get a misfire due to vibrations. The low profile of the SureStrike allows you to holster and draw your gun without interference from the system. The microprocessor allows you to control the number of shots for realistic reloading drills and laser duration for muzzle control error detection.

Kit Contents:
223 SureStrike laser cartridge and pipe
Cartridge Adapter - see product description for included calibers
Safety system
6 Reflective Targets (based on law enforcement standards)
Extension pipe
Carrying case
Made In
Was this information helpful?