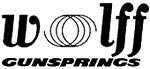 Hammer springs are available in a variety of weights to allow adjustment of the trigger and let-off to individual needs. Hammer spring packs offer a savings over individually purchased springs and are recommended when exact poundage desired is unknown. Installation requires disassembly and assembly of firearm.

Technical Information

Fits:

Colt 1911 Government length pistols and clones including models from Para Ordnance, Kimber, Springfield Armory etc. These pistols may have slides from 4" to 5".
Kit Contains:

One each of the following reduced power mainsprings (hammer springs): 19, 20, and 21 pounds.
Notes:

Factory Colt springs are 23 pounds. (Some clones and custom pistols may be different).

Hammer springs fit inside the mainspring housing and control the amount of tension on the pistol's hammer.

A lighter spring will give a lighter trigger pull.

Installation requires disassembly and reassembly of the pistol.